Original Dolls and Authentic Automata by
Karan A. Schneider
Photo by Studio Rossi Inc.
"Nora" by Karan A. Schneider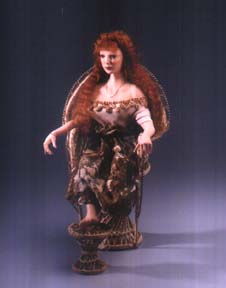 My Original Art Dolls have the artistic expression and quality craftsmanship, individually sculpted in polymer clay, creating a detail of realism. The use of coloring, texture and costuming are added to finish a balanced theme. The dolls are a collection of tradition, myth, legend, and yesteryear. I have dolls already made to purchase or they can be made from a concept of your choice. Commissioned work is also available.

In addition to original art dollmaking, I also do original artwork in doll animation, authentic automata, marionettes, lady dolls and a true favorite of mine--Renaissance pieces and reproductions of the Old Masters' works. Other popular themes of my designs are figurine Santas and poseable porcelain Angels. Whether a collector or a lover of fine art, my work is intended to please the viewer and compliment one's decor of living.

I am an artist who lives in Northeastern Ohio. I enjoyed two dimensional art until 1981 when I started to study three dimensional works with a local artist. For the next six years, I studied the structure of the different clays and basic mold-making techniques. Applying this knowledge, I progressed to one-of-kind sculptures with each piece radiating a lifelike essence. My first collectible was copyrighted in 1988 with progressive works added on an ongoing basis. It is my privilege to be able to express myself through my work and I thank God, my family, my friends and my clientele for their continued support and confidence.